Written by our good friend and early business partner, Captain Jerry Tilley, Ice & Fire captures the ferociousness of nature and remarkable feats of survival in Alaska and the Aleutian Islands.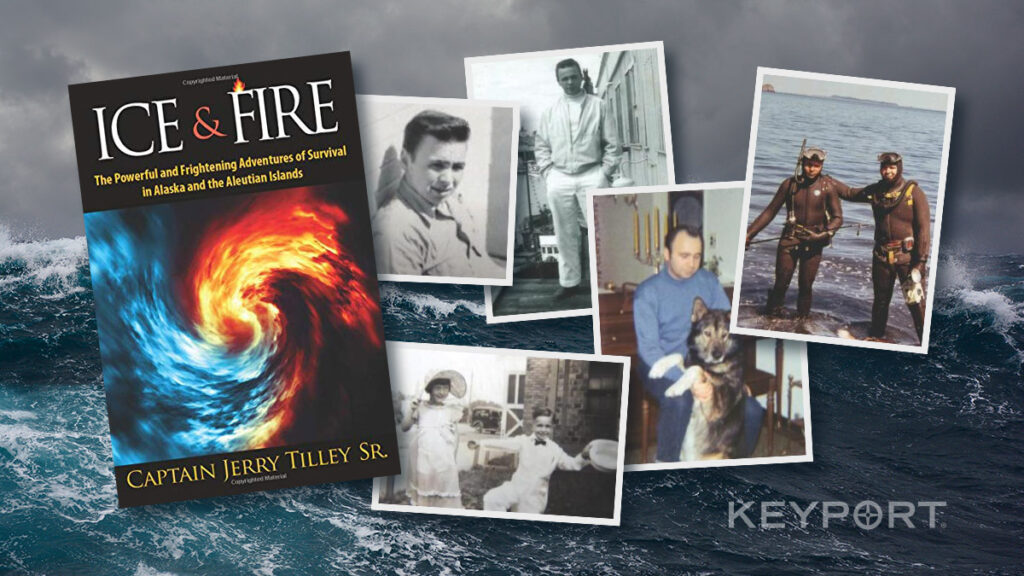 Four decades before The Deadliest Catch arrived in Alaska, commercial King crab fishing was booming in Kodiak and getting underway in Dutch Harbor and Adak. King crab fishermen in this era were true pioneers – pushing the limits and innovating as fast as possible, all while doing battle with the fierce conditions of the Bering Sea and the Gulf of Alaska.
Captain Jerry Tilley's recently published book, Ice & Fire is an adventurous, first-hand account of life in the Alaskan fishing industry during these early decades. It is not usual for Keyport to share book recommendations, but as a great friend and early business partner of ours, Captain Jerry Tilley's stories dovetail with our own history of crabbing in the Artic seas. And what a history it is! Jerry's stories range from riding out a devastating tsunami, to dangerous rescue missions to feats of innovation that revolutionized the industry. We are grateful that Jerry kept meticulous daily journals which became the basis for this unique collection of stories.
We hope you will enjoy Captain Jerry Tilley's book as much as we did!
Interested in reading more about the early years of the Alaska King crab fishing? The Maritime Museum in Kodiak has a great blog on the subject:  The Early Years of the Kodiak King Crab Fishery.  We also enjoyed historian Anjuli Grantham's excellent piece Inventing the King Crab Fishery on her blog Salt and Gale.
Ice & Fire:The Powerful and Frightening Adventures of Survival in Alaska and the Aleutian Islands book summary from Amazon:
He jumped out of a helicopter into a dark green ocean swell in the Gulf of Alaska with one tank of air and no land in sight, and watched as the aircraft left him. Now what? Jerry Tilley Sr., thrills us with these real-life accounts from his long professional career in the seafood industry as he faced dangerous underwater exploits, earthquakes, tsunamis, hundred-mile winds, roaring fire, and fast-moving ice. Living the Alaskan dream requires more than desire: it demands survival skills. A "Mayday" cry should be repeated three times and you must give your location, but the boat rolls over before the second "Mayday" can get out! What happened next? These mysterious and terrifying tales on land and at sea capture the ferociousness of nature and the remarkable feats of survival in Alaska and the Aleutian Islands. Man thinks he is in control, but Mother Nature has other plans! This is a portrait of an astonishing and seemingly fearless man with a vigorous spirit whose intuition and skill are to survive and excel. Jerry Tilley shares his extraordinary life—one that is funny, heartrending, and inspiring.
The ice was now solid from the bow stem to the top of the wheelhouse and along the rails. The ice outside the railings was so heavy large sections would break off as we hit the bottom of the trough. We would drop 30 to 40 ft off the crest and crash to the bottom as another swell would slowly lift us up for the next one to drop us. The tops of the foaming waves were blown flat from the wind.
We were being blown north close to the Barren Islands. The Cook Inlet ebb was causing massive swells that were without exaggeration 50 feet or more. Our 80 foot "Hekla" would climb a wave for what seemed like an eternity at a 45-degree angle and sometimes more than 45 degrees then finally reach the top to cascade down the other side with the stern high in the air. At times, we would drop over so fast the wheel would come out of the water and then down we would slide to the bottom of the trough. Then a swell would just break over us and the boat would drop and hit with a bone jarring crash. One of those sudden stops caused the battery racks to pull off the forward bulkhead and partially submerge under the seawater. They did remain in operation. A little luck was required here.
Skip was still passing the buckets without one single minute of variation in the procedure.
The Captain stayed on the wheel and never said one word. I guess everyone was deep in their own thoughts wondering if we were going to join the others before us beneath the surface of the sea in Davey Jones' locker or stay on the surface. I was hoping my guardian angel worked overtime and was fearless.
We knew we had no radio or radar so there was no way to call anyone. It wouldn't have done us any good anyway. No planes were going to fly and no vessel of any description was crazy enough to put to sea in this weather. I suppose the adrenaline kept us going, that and the fact that we did not have a life raft. We did have what is referred to as life vest. The life vests were probably purchased at some military surplus store. They looked like WWII vintage. I wouldn't call them life preservers because all they could possibly be good for is maybe keep your body afloat long enough for someone to find the frozen remains. These were the kind you used to see in old war movies. They were filled with kapok which was something like balled up cotton. The later ones had cork filling that didn't soak up water. Ours were kapok filled. In this freezing sea we wouldn't stay alive long enough to realize we were already dead.
Interested in learning more about Alaska crab? Visit our blog or follow us on Instagram, Linkedin, YouTube and Twitter for news, updates from sea, beautiful crab photos and more!
Keyport is committed to delivering wild seafood at its greatest. Always wild-caught using responsible fishing practices, Keyport's seafood products are available through the finest restaurants and retailers nationwide.  Best-known for premium crab, our family-owned company is built upon five generations of innovation, long-standing supplier relationships and an unwavering passion and commitment to quality.