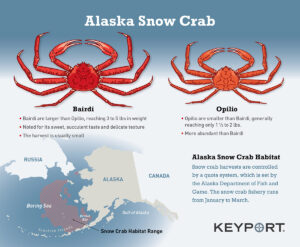 While Alaska King crab garners a lot of attention on Keyport social media for its impressive size, Alaska Snow crab also has a very loyal following among crab lovers and chefs. Smaller than King crab, Snow crab is beloved for its extraordinarily long, easy-to-crack legs. Although harvested in icy waters off the coast of Alaska, Snow crab actually gets its name from its flavorful meat which turns to a snowy white when cooked. With a delicate texture, sweet taste and leg shells that can be easily cracked open with just your hands, it is easy to see why Alaska Snow crab has so many fans!
Sustainability
According to Fishwatch, "U.S. wild-caught Alaska Snow crab is a smart seafood choice because it is sustainably managed and responsibly harvested under U.S. regulations." FishChoice concurs, giving Snowcrab from Alaska a "Best Choice" sustainability rating. Alaska Snow crab is harvested off of the coast of Alaska in the Bering Sea under the management of NOAA Fisheries, the North Pacific Fishery Management Council, and the Alaska Department of Fish and Game in order to ensure sustainability for future generations. Only male crabs of a certain size are harvested, allowing the females to reproduce and replace the ones that were harvested. Economic sustainability is also addressed in the Alaska Snow crab fishery through the Community Development Quota Program which opens participation and investment to eligible coastal communities by allowing them ten percent of the harvest.
Habitat and species
There are two species of Snow crab harvested from the icy waters of the Bering Sea in Alaska: Chionoecetes opilio and Chionoecetes Bairdi. Both species are found on the muddy and sandy bottom of the continental shelf and slope, where they feed on animals living in the sediment and avoid predators by burrowing into the mud. Opilio, which are sometimes referred to as Opies or Queen crab, are the smaller, more readily available of the two species and typically weigh 1 ½-2 lbs. Bairdi, also known as Tanner crab, can range in size from 3-5 lbs and command a higher price due to their size and restricted quotas. Many crabbers consider Bairdi to be the best of Alaska crab for its combination of meat fill, flavor and thin shells which are easy to crack.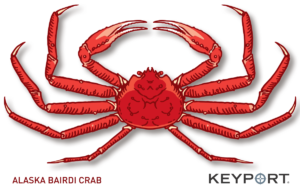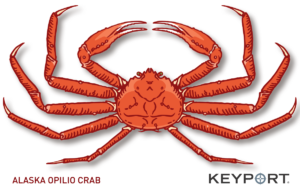 Time to eat!
Since Snow crab is cooked and quick-frozen upon reaching shore in Alaska, you can simply thaw overnight and rinse before serving cold. If you prefer your crab hot, it can be gently warmed for a few minutes in the oven or on the grill. Alaska Snow crab is high in protein, low in fat, and filled with nutrients… so dig in!
Interested in learning more about Alaska crab? Visit our blog or follow us on Instagram, Linkedin, YouTube and Twitter for news, updates from sea, beautiful crab photos and more!
Keyport is committed to delivering wild seafood at its greatest. Always wild-caught using responsible fishing practices, Keyport's seafood products are available through the finest restaurants and retailers nationwide.  Best-known for premium crab, our family-owned company is built upon five generations of innovation, long-standing supplier relationships and an unwavering passion and commitment to quality.