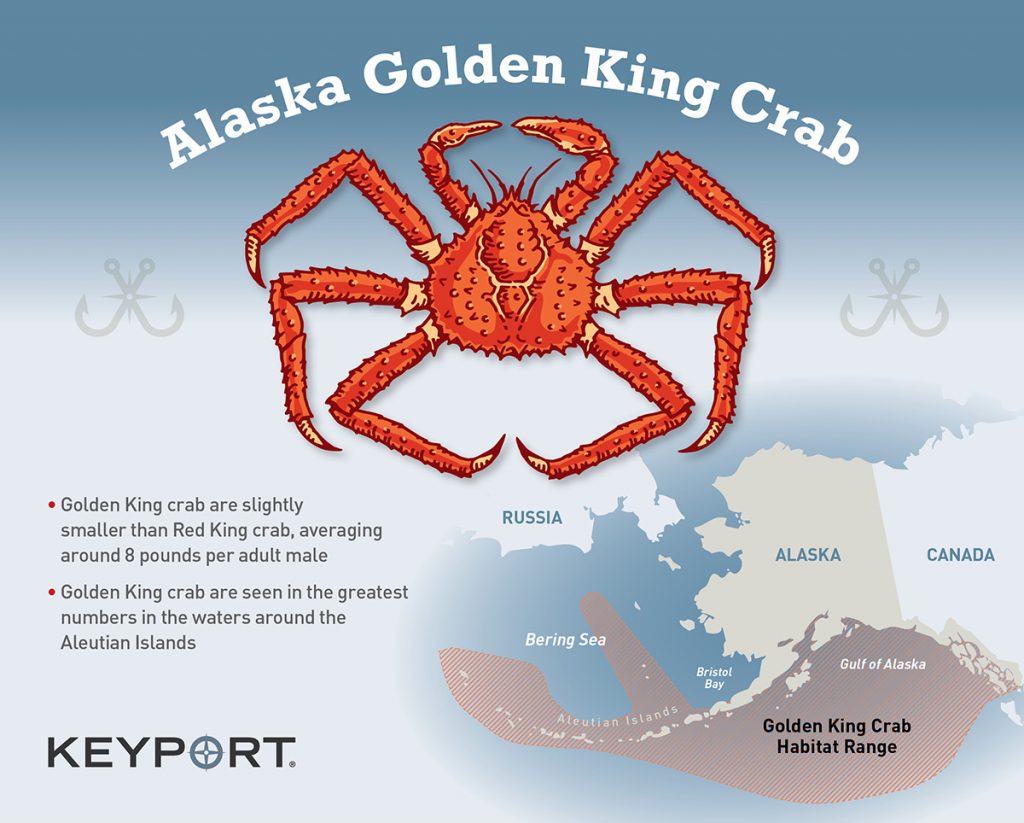 Alaska Golden King Crab
There are forty known species of King crab, of which only three are commercially fished in Alaska – Red King crab, Blue King crab and Golden King crab. Although slightly smaller than their Red and Blue King crab cousins, Goldens are known for their excellent texture and milder, slightly sweeter taste. Alaska Golden King crab derive their name from the golden hue of their shell.
Great Depths
Golden King crab live on the rocky bottom of the icy waters surrounding the Aleutian Islands and are caught at greater depths than any other commercially harvested species in Alaska. Due to the depth of their habitat, which can reach 300 fathoms (1800 feet) or more below sea level, Golden King crab can be more difficult to catch than Red King crab, whose habitat tends to be sandy and more accessible. Fishermen use pots that are set on longlines, a hybrid technique that is unique to Goldens. Some vessels harvest with pink pots, since red is the first color to "disappear" at great depths below sea level, making the pots visibly undetectable to the crab. This allows for greater catch per pot and therefore less gear deployed per season.
Sustainability
In 2005, The Bering Sea Aleutian Island Crab Rationalization program was implemented, replacing a competitive, short, and often dangerous season with a limited access privilege management program. Under the new program, a reduced fleet of about five boats harvest their individual quotas over nine months. The program allocates 10% of the total allowable catch each year to western Alaska villages through the Western Alaska Community Development Quota Program (CDC). The CDQ works to support economic development, provide opportunity, alleviate poverty and achieve sustainable and diversified local economies in western Alaska.
Cooperation and Commitment
Throughout their Alaskan range, Golden King crab are one of the most abundant species of crab. The fleet, scientists, and state agencies work together to keep the stocks of Golden King crab at a healthy and thriving level. As part of a new stock assessment program launched in 2015, scientists accompany the boats out on the first trip of the season, documenting and assessing the stocks and collecting demographic data. This data-rich approach allows for real-time review of the health of the fishery that is reflected in the quotas that are set each year and provides protection from overfishing for years to come.
Interested in learning more about Golden King crab? Visit our blog or follow us on Instagram, Facebook, YouTube, and Twitter for news, updates from sea, beautiful crab photos, and more!
Keyport is committed to delivering wild seafood at its greatest. Always wild-caught using responsible fishing practices, Keyport's seafood products are available through the finest restaurants and retailers nationwide.  Best-known for premium crab, our family-owned company is built upon five generations of innovation, long-standing supplier relationships, and an unwavering passion and commitment to quality.